For the Detroit music scene, if you want to predict the future, look to the past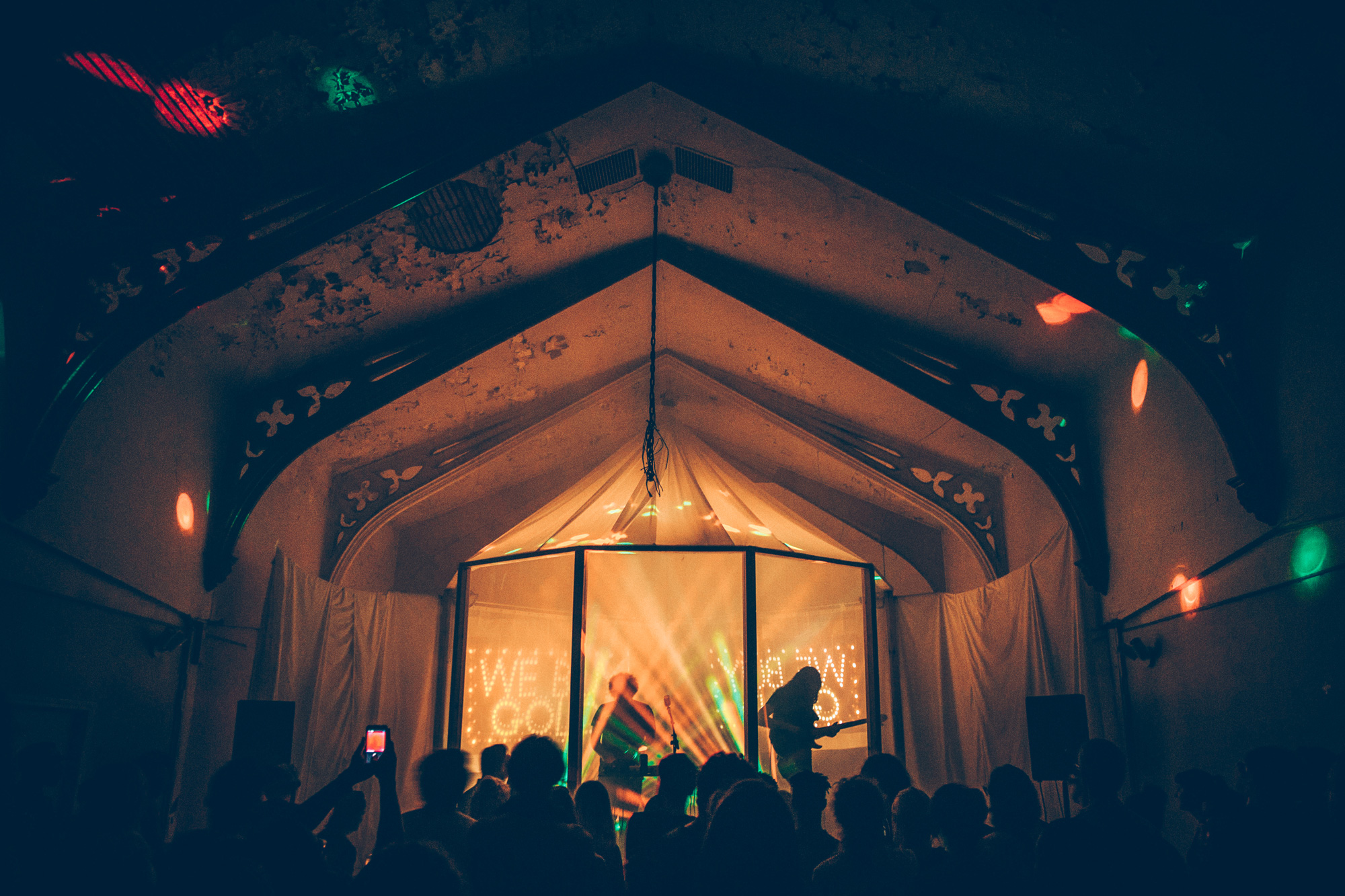 Few cities in the world rival the musical heritage of Detroit, the birthplace of Motown that produced more than 180 No. 1 hits around the world, defining the sound of an era.
Detroit's rich musical history spans the past century. The greater Detroit area has been the birthplace and/or primary location of many platinum-selling artists, whose total album sales were estimated to have topped 40 million units by the year 2000. The success of Detroit-based hip-hop artists quadrupled that figure in the first decade of the 2000s.
So where are we now? Looking at Detroit today, you could tell that the city's once-thriving music scene seems… well, quiet.
As we found out, that couldn't be further from the truth today, but the city — and the music industry — has had its fair share of decline over time.
Labels like Atlantic Records are continually combing through Detroit to find the next Aretha Franklin. There is so much talent in Detroit and no other city offers such a fantastic mix of musical genres. The business just looks different now, shares Pete Ganbarg, president of A&R, Atlantic Records.
It's an interesting story and, like many things, it comes back, in a different way.
A BIT OF HISTORY FOR CONTEXT
Many consider the opening of Orchestra Hall in the early 1920s to be the beginning of Detroit's musical heritage.
Over the next three decades, music in Detroit boomed, and local artists achieved international success in jazz, classical, blues, R&B, and soul genres.
In 1959, Berry Gordy Jr., a former employee of the Lincoln-Mercury Automobile Plant in Detroit, opened the doors to Motown Records with just an $800 loan from his family. Gordy's early artist portfolio included Detroit natives Smokey Robinson and The Supremes and introduced the music of artists such as Stevie Wonder and The Jackson 5 to global audiences.
In the late 1960s, the city established itself as a hub of the underground rock scene with bands like MC5 and Iggy and The Stooges.
Motown Records moved to Los Angeles in 1972, and although it was a significant loss, Detroit's music industry remained in vogue.
Throughout the 1990s, Detroit developed a strong hip-hop scene, producing artists like Insane Clown Posse, local rapper Esham, and the band D12. In 1997, D12 member Eminem rose to worldwide fame with the release of the EP Slim Shady.
However, at the turn of the century, great changes occurred throughout the industry. Major labels consolidated, leading the way in Nashville, LA and NY. The Midwest began to be overlooked.
A historically segregated city, Detroit's artists and neighborhoods have become increasingly siled and musical collaborations have more or less disappeared.
Then, on July 18, 2013, Detroit filed for $18 billion in bankruptcy, the largest municipal bankruptcy in US history. The once bustling city now had a reduced population of less than 700,000 and a poverty level of 38% (compared to a national poverty rate of 16.3%).
WHERE ARE WE NOW?
Today we find ourselves in a different place.
The city is experiencing a revival, and along with many industries, music is in the game.
Technology and the Internet have changed the way we deliver, buy, consume, sell and market music. Where artists once sold vinyl records in stores, they now upload their music to consume around the world in minutes.
"Now we have bedroom and basement DJs and artists releasing their own music, adding many other artists into the funnel," says Adriel Thornton, Detroit music promoter and director of Fresh Media Group.
"The barrier to entry has never been lower," notes Ganbarg. "The ability for an artist to communicate directly with the consumer is the most direct it has ever been."
This, and the increase in the number of people paying for streaming music, has created something of a groundswell.
Yet we were still missing a major label presence in the city, and while the implications mentioned push art around the world more easily, they also result in many new complications for artists trying to market themselves and to grow while navigating in a big and very complicated sea. "On average, 50,000 songs are uploaded to Spotify daily," Ganbarg shares.
CHANGE IS ON
Enter Assemble Sound. Launched in 2015 with a residency program giving 15-20 artists and producers per year 24/7 access to four studios under one roof for free.
"Assemble is an incubator for artist development and the cool thing is that it spans all genres. Artists from different backgrounds and sounds collaborate and new and different music comes out of it. resources, information, and general knowledge," says Assemble co-founder and CEO Garret Koehler. In a cutting-edge move, through Assemble artists retain all rights to their own intellectual property and do not sign any contract.
Six years after its launch, in December 2021, Assemble announced a joint venture label deal with Atlantic Records, giving Atlantic access and the ability – along with Assemble – to discover and develop artists in the early stages of their careers.
Assemble is at the epicenter of this great musical city, adds Ganbarg. Atlantic worked with Garret and the team to sign Sam Austins in June 2021 and that launched the relationship. We look forward to going under the hood with Garret and his team and looking to develop many more Detroit artists," said Ganbarg.
Koehler says, "Our dream was to be able to sign artists at a major label scale in Detroit and that's what Atlantic will do for us – we now have the resources to compete on a global scale.
Another important player in the development of Detroit artists is gener8tor Music, a partnership with the Motown Museum, Capitol Music Group and TechTown Detroit, which launched in 2019, providing support, mentorship, education and networking to artists. artists.
"We want to help build that connective tissue for action-oriented, hustle-and-bustle performers so they don't go unnoticed and have to go it alone." said Paul Riser Jr., Senior Program Officer, Ralph C. Wilson Foundation, former Director of Detroit Urban Solutions at TechTown Detroit and former Motown Museum Board Member. It should be noted that Riser's father is Paul Riser, Sr., one of Motown's famous Funk Brothers and an arranger on many of the label's biggest hits. "We want to bring Detroit's musical heritage back…and we're working to bring it back on steroids," he says.
Suai Kee, Detroit-born singer-songwriter/producer and director of gener8tor
Detroit finds its musical legs. We haven't been a hub for music in a while, but that doesn't mean the talent isn't there – there's an abundance of talent working independently and without support – the Accelerator program s trying to change that.
And, on January 12, 2022, Che Pope, the multi-platinum producer who has worked with Aretha Franklin, Lauryn Hill, The Weeknd, Kanye, and more – and Dan Gilbert launched WRKSHP together focusing on reviving the music industry in Detroit by partnering and collaborating with local artists, hosting educational workshops, and producing talent shows, concerts, and festivals attracting industry executives and high-level industry executives in the city.
WRKSHP takes an artist-centric approach by transforming not only traditional royalty-based contracts and real estate ownership into a partnership model, but also offering a personalized suite of support services, including talent development, management, marketing and promotion, and content production.
Instead of signing deals with artists at these 360-degree deals, WRKSHP will partner with creatives and educate them so they benefit from revenue from their intellectual property and more effectively monetize their art, says Pope, who will occupy the position of CEO.
When asked "why Detroit," Pope replied, "There are incredible, talented artists here who have done – and are doing – their work. Now they need the ecosystem to support and scale their work. Our goal for WRKSHP is to fully contribute to generating this artist-driven ecosystem and rebuilding Detroit's legacy of great music.
Gilbert chimes in, saying, "Music is the compass that connects people on a collective path. Detroit, more than any city, validates this connection across many generations. Detroit's deep-rooted history of moving the world through global multi-genre musical contributions makes it the natural choice for our headquarters.
Pope says in closing: "The seed has been planted, now we must water it. It is our goal and our vision at WRKSHP to do just that.
As always, be sure to subscribe to our newsletter for regular updates on all things Detroit and more.