Quality wines from the heart of Europe "completes its first year of campaign on the American market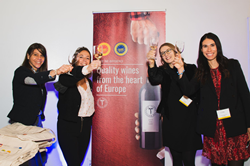 NEW YORK (PRWEB)
December 31, 2021
The 'Taste the Difference: Quality Wines from the Heart of Europe' campaign concludes its first year with a bang and aims for a successful 2022 after culminating a series of activities that have brought quality European wines closer to members of the trade across the United States.
With education as a fundamental pillar of the program, TTD.EU has partnered with the highly respected wine institution GuildSomm to offer a series of master classes showing unique, special and hard-to-find wines as examples of what the programs of EU quality allow in terms of origin, diversity and quality. Master classes were attended by active industry professionals in Chicago, Denver, Boston and New York.
TTD.EU attended the famous Texsom industry conference in Dallas, where it hosted a training session for volunteers – all wine professionals who have traveled all over to participate in this annual event. Conference attendees also had the opportunity to experience little-known wineries and regions that were showcased at the tasting tables at the conference wine exhibit.
As part of the TTD.EU campaign, the wines of Custoza DOC, a leading appellation from the Italian region of Veneto which cultivates the indigenous grape varieties Garganega, Trebbianello and Malvasia, have been highlighted by Italian oenologist Henry Davar during a virtual seminar. Likewise, DO Cava sparkling wines from Spain were showcased at New York's popular CorkBuzz wine bar during an in-person seminar. Throughout the campaign, many other Italian and Spanish vineyards landed on American soil for the first time.
The media relations, trade relations and digital content available both on social media channels and on the campaign website all added to the campaign's efforts to promote European wines from Italy and Italy. Spain.
The final 2021 activity for Taste The Difference consisted of a great tasting in New York which counted with the participation of more than 40 wineries, many of which were represented by winemakers from Europe for the occasion.
In 2022, the campaign will continue to develop this year's activities and will include new activities aimed at raising awareness of the EU's quality systems, Spanish and Italian PDOs, PGIs that respect them, such as members of the UIV and PRODECA.
Next year's campaign will add business and media immersion trips to Spain and Italy, guest winemaker roadshows in addition to ongoing media relations, social media marketing, business relations, training sessions and events.
—
The program: Quality European wines: taste the difference is a project funded by the European Union and managed by Unione Italiana Vini and PRODECA for the promotion of European PDO and IGP wines abroad in China and the United States. In order to achieve this goal, the TTD.EU program will organize seminars, workshops and b2b meetings in these countries as well as in Spain and Italy, inviting wine professionals to participate in study trips to Europe. The program, carried out over a period of three years (2021-2023) aims to raise awareness of quality European wines, in particular Italian and Spanish, which share a long tradition and a high level of quality.

The beneficiaries: Unione Italiana Vini is the oldest and most mandated association in the Italian wine market. It represents cooperative, private and agricultural wine companies, bottlers, consortia, associations and manufacturers of wine machines or cellars / laboratories, located throughout Italy. Promotora de Exportaciones Catalanas (PRODECA) is a public company created in 1986 and part of the "Ministry of Climate Action, Food and Rural Agenda of the Government of Catalonia". It supports the agri-food sector and its companies with the knowledge, tools and experience to increase their products in Catalonia and around the world.
Share the article on social media or by email: