Retailers and GICs Step Up Their Sustainability Efforts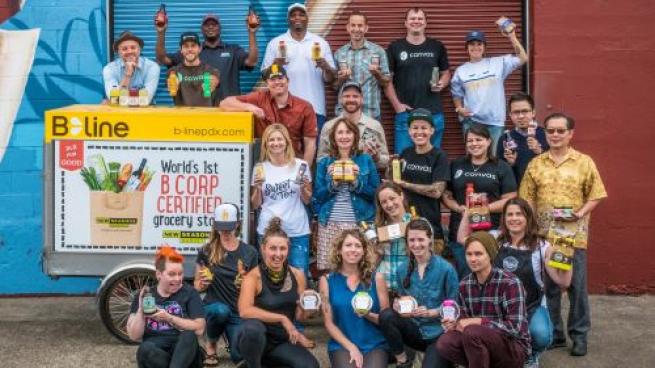 Mom's organic market
Family-owned MOM's Organic Market strives to reduce food waste as a business by donating to food banks, offering a free compost drop-off at all of its stores, carrying recycled food products and raising awareness public to the problem of food waste. his clients.
Last year, the Rockville, Maryland-based chain launched a one-of-a-kind mouthpiece showcasing recycled food products and dedicated a month-long promotion to raise awareness of food waste. "In 2021, we donated over $1 million in additional food from our stores to over 60 different food banks, soup kitchens and local churches," says Liz Dunn, category manager, personal care, apparel and way of life.
Greener operations
"We implemented 10-cent credit incentives for reusable bags and worked on legislative advocacy products for plastic bag taxes," Dunn notes. MOM chooses not to sell bottled water, preferring instead to host a filtered water machine that provides communities with refillable reverse osmosis and alkaline water options. "We offer a wide selection of bulk produce to enable our customers to go plastic free where possible and provide compostable or recyclable options for our bulk produce, coffee and produce departments," explains Dunn. The company even sponsors a denim drive to collect old denim jeans for affordable home insulations.
Through an internal stewardship program, team captains are chosen to ensure the chain's environmental goals are met in each store. "Grocery managers listen to our customers and provide feedback," says Chris Miller, product manager and meat and seafood coordinator. "They scour the market for new, more sustainable businesses."
Supplier sustainability
"We want to shorten the supply chain as much as possible for meat and work directly with producers," continues Miller. "We try to source from local and pasture-based operations, and we like to support farming practices that contribute to healthy soils, especially the Chesapeake watershed."
According to Miller, the company is the only grocery store in the United States to offer 100% sustainable seafood — right down to its canned tuna — and follows the recommendations of the Monterey Bay Aquarium's Seafood Watch program.
"We scale further, hosting local seasonal CSAs [community-supported agriculture] collections and partnership with an oyster recovery program to provide fresh oysters via local farms," he notes.
The company is working with a slew of new suppliers, including Superior Fresh, a Northfield, Wis.-based aquaponics company that grows certified organic greens that clean the water in which salmon are raised. In turn, the salmon provides nutritious water for the greens. MOM is also working with mushroom grower Smallhold, a Brooklyn, NY-based company that is reinventing sustainability with an inherently circular growth model that reuses waste from other industries, such as sawdust. , to grow mushrooms, then donates the rich mushroom compost to farms, schools, and nonprofits.
Miller says that last year MOM found more product options, such as grapes, heirloom onion varieties and mushrooms, with compostable packaging, or reduced packaging. "Where possible, we work with partners who move the needle in sustainable packaging, like Hex Ferments, the only mid-Atlantic kombucha company that has successfully implemented and integrated an exchange program bottle return, saving more than half a million bottles from recycling and the waste stream since 2013," he says. The retailer also works with UK-based company Georganics, who use specialist recycling partners for materials and allows customers to join its Zero-To-Landfill plan to mail in products for recycling.
Double the recycling
MOM stores are following suit on reuse and recycling. Stores recycle plastic wrap, boxes (waxed and plain) and scrap metal and use bulk cleaning products. Stores that use reusable mop heads and towels wash them in-house. The registers use durable paper, adhesives and ink; the Naked Lunch and Bake Shop chain's in-house kitchens use compostable utensils and napkins; and break rooms are equipped with washable plates and cups only.