Shanghai data shows severe drop in retail sales in March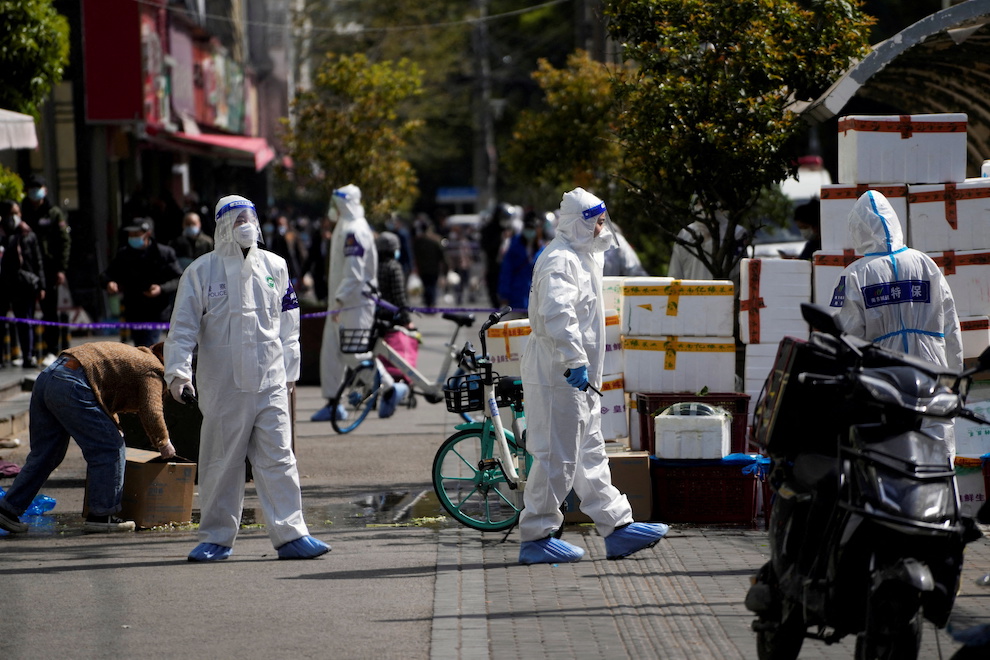 The heavy price Shanghai is paying in economic terms for its prolonged Covid lockdown began to show in the first figures revealed by local officials on Saturday.
China's largest city, with a population of around 25 million, has suffered a severe drop in industrial output and retail sales.
Shanghai's statistics bureau said on Saturday that the year started off positive, but the city was hammered by the Covid outbreak which emerged in early March and led authorities to declare a citywide lockdown in early April when the number of cases increased.
The city's gross domestic product rose 3.1% in the first quarter, but that was well below the 4.8% national GDP growth over the same period and less than half of its expansion in the first quarter in 2021.
"In January-February, the economic functioning of the city was stable, but due to the impact of the Covid epidemic in March, the first quarter was marked by stability followed by a decline," said the city ​​statistics office in a statement.
Output in its huge industrial sector plunged 7.5% year-on-year in March after strict shutdowns halted some production, a city official said on Friday.
But for January-March, industrial production still rose 4.8% from a year earlier, data showed on Saturday.
However, Shanghai's first-quarter retail sales – a key indicator of consumption – fell 3.8% year-on-year, down from 3.7% growth in the first two months.
And in March, retail sales fell 18.9%.
In the first quarter, consumer prices in the city rose 1.8% from a year earlier, with prices in January-February up 1.6% year-on-year and accelerating in March to 2.2%.
The spike in consumer inflation came as Shanghai residents complained about food and basic supplies during the lockdown, with some saying vegetable prices rose five to 10 times before the outbreak.
Job creation also slowed, with Shanghai reporting 192,600 new jobs in the first quarter, down 26,200 from the previous quarter.
April and Q2 figures are expected to be much more severe.
Barriers erected at victims' homes
Meanwhile, authorities in Shanghai have erected lattice barriers outside some residential buildings, sparking fresh public outcry over the lockdown that has forced most city residents to stay home.
Images of workers in white hazmat suits sealing off apartment building entrances and even closing off entire streets with green fences around two meters high went viral on social media on Saturday, sparking questions and complaints from residents.
"It's so disrespectful of the rights of the people inside, to use metal barriers to lock them up like pets," said a user of social media platform Weibo.
Video showed residents yelling at workers erecting fences from their balconies, who then relented and took them away. Other videos showed people trying to pull down the fences.
Most of the barriers appeared to have been erected around compounds designated as "sealed areas", which are buildings where at least one person has tested positive for Covid-19. This means that these residents are prohibited from leaving their front door.
It's not immediately clear what prompted authorities to resort to barriers, but a notice dated Saturday from a local authority shared online said it was imposing a "hard quarantine" on certain areas.
Transfers to isolation centers
Officials say Shanghai's Covid outbreak is the country's biggest-ever effort to test, trace and force all positive cases into central quarantine facilities.
The lockdown – which lasted more than three weeks for many residents – fueled frustration over access to food and medical care, lost wages, separation from families, quarantine conditions and censorship efforts to let off steam online.
Production at the factory has been severely disrupted by blocked supply chains and the difficulties faced by confined residents returning to work.
The city is conducting daily Covid testing across the city and accelerating transfers of positive cases to central isolation facilities to eradicate transmission of the virus outside of quarantine areas.
Over the past week, authorities have moved entire communities, including uninfected people, to isolation facilities outside Shanghai, saying they want to disinfect their homes, according to residents and publications. on social networks.
39 dead on Saturday
The city reported 39 new Covid deaths for April 23, up from 12 the day before and by far the most during the current outbreak.
In the first few weeks, no deaths were reported, but that seemed to fuel doubt among locals about the numbers. It has since reported 87 deaths, all within the past seven days.
Shanghai recorded 19,657 new locally transmitted asymptomatic cases, down from 20,634 a day earlier, and 1,401 symptomatic cases, down from 2,736.
Cases outside quarantine areas totaled 280 from 218 the previous day.
China has largely succeeded in keeping Covid at bay after the initial outbreak in Wuhan in late 2019, with a "dynamic zero" policy aimed at eradicating chains of infection.
This approach has been challenged by the spread of the highly infectious but less deadly variant of Omicron, which has prompted cities to impose varying levels of movement restrictions.
Nationwide, China reported 20,285 new asymptomatic coronavirus cases on Saturday, down from 21,423 a day earlier, with 1,580 symptomatic cases down from 2,988.
Beijing recorded 22 new cases – all transmitted locally – up from six the previous day, prompting a number of gyms and after-school activity providers to suspend in-person classes.
• Reuters with additional editing by Jim Pollard
ALSO on AF:
Xi Jinping maintains tough stance on Covid despite public anger